Bread Baking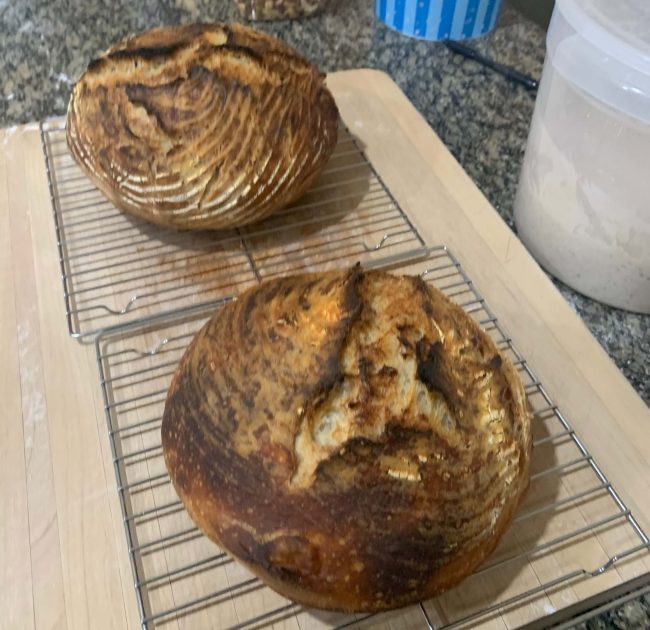 Long time readers are aware of my recent fascination with baking bread. Originally I began as a way to de-stress, and like my quest for the perfect pizza, it has become somewhat of a crusade.
About a year ago, I had been pretty successful with my naturally leavened, sourdough loaves, mostly using recipes from King Arthur Flour. Their "Extra Tangy Sourdough" has been my go to. It is pretty simple, it works well when I mix it with my stand mixer, and it produces a decent quality loaf, enjoyed by friends and family. Then I heard about the book by Ken Forkish on baking artisan bread, "Flour, Water, Salt, Yeast". Good book, well praised, and if you can get past the dickishness of Ken (the name dropping, the aside on where his flour comes from, and where he went to learn to bake, among other annoying writing flairs) it is actually a great book. Up front is a veritable gold mine of techniques, and tips. And, his recipes work.
Until now, I had only really used his recipes for pizza, and oh boy, does his recipe for a levain overnight pizza dough rock. But with things slowing down, I dove into one of his basic recipes for the Overnight Country Blonde. It is a roughly 2kg recipe that will make two boules.
His method for making a levain (aka sourdough starter) is different than my standard, but it isn't difficult. He does recommend making about double or more than you need, so unless you are doing a lot of baking, you will be disposing of a lot of extra levain.
He also uses bakers percentages, a method that allows you to scale up and down the recipe size. This can be intimidating for novices, but once you get used to it, it is pretty easy to adapt and use.
This dough is pretty wet. At about 77% hydration (percentage of water to flour) it feels really wet when you are working with it, much more so than the KAF recipe I linked to above. This can freak you out, but in one way it is a huge benefit. It is MUCH easier to mix and completely incorporate the try ingredients.
His recipes also don't require a lot of kneading. Instead you will fold the dough a few times during the first rise (the bulk fermentation), and this is a LOT easier than a manual knead. In fact, none of the recipes I have baked have required the mixer to be used. There is something about your hands, the dough, and your sense of touch being in control.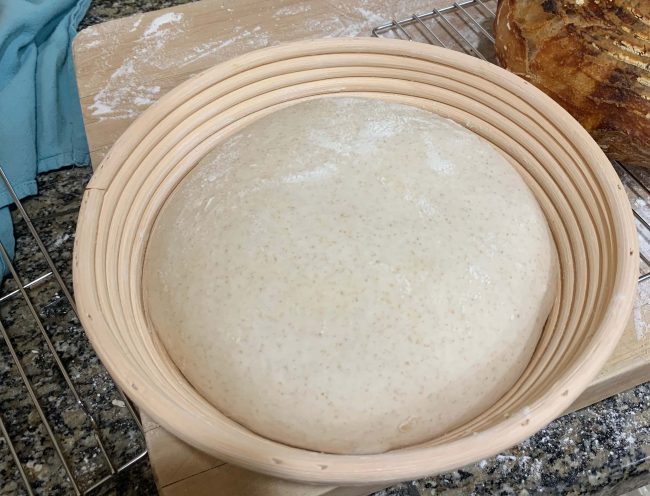 The other thing to note, especially for the overnight recipes, is that the first rise is very vigorous. At about the 14 hour mark, the dough is wet, bubbly, and very pillow like. It takes some practice to form them into balls, and then slide them into the proofing bowls.
Lastly, once you bake them, his recommendation is to let them brown a lot more than your eyes want to let it go. This is important, as it makes for the dark, flavorful crust.
The results are epic. Four ingredients, patience, a practiced hands, and a willingness to follow the instructions, and you can have amazing bread at home.