Next RC: Losi Super Baja Rey 2.0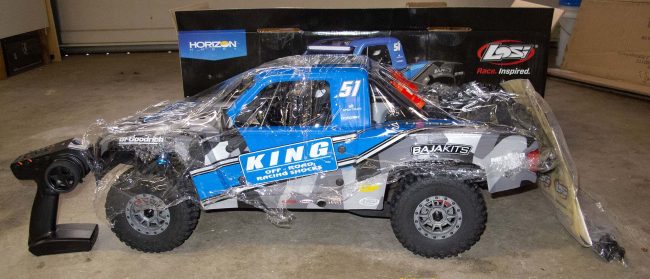 Over the summer, I was looking at adding to the stable, and I had an Arrma Mojave 1/7th scale that was going to scratch my short course/desert truck itch.
Alas, it was on backorder from my Birthday, and the last update I got on shipment was that it would have shipped on September 6th (and then it was delayed again) so I cancelled it. It was on backorder soooooooo long that the batteries I ordered to go with it from Banggood all arrived before I cancelled the order.
The supply chain from the factory in Taiwan, and the extra demand from those of us who are locked up or impacted by COVID restrictions.
So, in late August I cancelled the order, and turned my focus to the building of scale models.
Then I saw the announcement for the version 2 of the Losi Super Baja Rey. Where the Mojave was a 1/7th scale truck, this is a bigger truck, and in typical Losi fashion, appointed with better quality parts than the Arrma (don't get me wrong, Arrma makes a fabulous vehicle, tuned to the bashers, but Losi is on a whole different level).
The Super Baja Rey is closer in kinship to the Traxxas Ultimate Desert Racer, in that it is configured with a solid rear axle, with long drop suspension, and a shorter body cage. The Mojave is a 4 wheel independent suspension, closer to their Kraton, or a myriad of Traxxas vehicles, tracing their roots back to the veritable racing 4 wheel drive buggy chassis. Great for bashing and similar usage, but the long link rear suspension accurately mimics the Baja desert racing trucks.
When I first began seriously looking for an RC, I wandered into the showroom of JJ Customs here in San Jose, and I spied a Super Baja Rey, the older generation, and it looked too big for a beginner. I did seriously contemplate buying the 1/10th scale Baja Rey, but ultimately decided to go for the 8ight 4wd buggy, a decision that I have never regretted.
But the itch for the Rock Rey, a trophy truck model remained…
Today, I pulled the trigger, and will have one of these beasts to add to my stable.
The Details
A typical Losi truck, it has pretty solid components. The Spektrum DX3 controller and matched smart ESC system that can handle 6 or 8S LiPo battery packs. (actually it requires quantity 2 batteries, either 3S or 4S)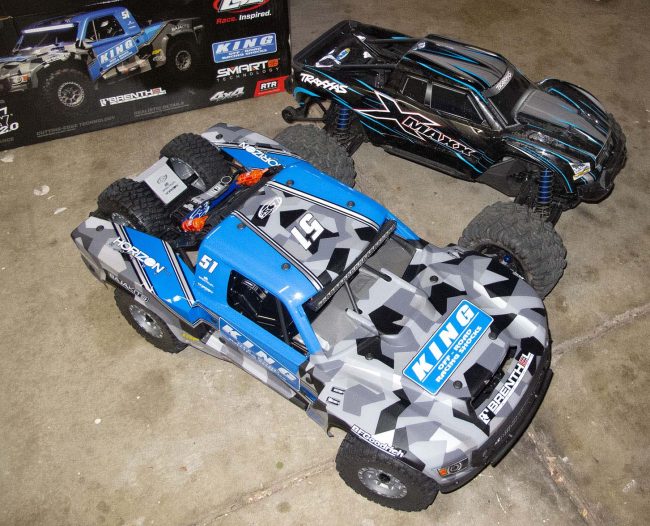 It comes with many scale goodies for looks including driver and copilot, spare wheels/tires (that are important to the weight balance), fire extinguishers, fuel cell, light bars front (2), and rear (1), and even a tiny floor jack.
It has licensed graphics and body that look cool (first major upgrade is to buy a spare body and paint it. Get some use of the airbrush.
Out of the box, similar to my Losi 8ight buggy, it is solid, reliable and ready to rock and roll.
And, as a final touch, it includes the AA batteries for the transmitter. No other brand does that.
Whereas the Mojave I was backordered, out of the box, you pretty much need a new radio (the STX2 is notoriously awful) and the steering servo is weak (both in strength and in how it is mounted), so you end up spending about $150 just to get it reliable and ready to bash.
Unpacking, and First Drive
The shipping was super fast, it arrived in 3 days (would have been two, but it missed the UPS transport truck on the front end).
I pulled it out of the box, and as I mentioned above, it was well packed, well apportioned, and apart from the LiPo batteries, was truly ready to run.
The box is HUGE. A lot bigger than the box my X-Maxx came in.
Put the new Spektrum 5000mAh batteries on the charger, and did a once over and I will say I am impressed. As is typical for Losi, it is solidly built, well put together, and just a beast.
How does it handle? Well, it has a lower CG, and a wider stance than the X-Maxx, it has a lot of body roll in hard turns. Not as quick of a turning radius as the X-Max, but it is a lot more true to scale (watch a video of 1:1 Trophy Trucks racing, and you will understand.)
I drove it on the street in front of my house, with some slow work around the sidewalk, and a couple of small patches of dirt.
It accelerates HARD, it does pop up on 2 wheels when you turn it tight (but I suspect that on dirt it will behave better and slide with grace). No real chance to jump it yet, but I assume it will be fairly neutral in the air, and land with aplomb.
Some people mention that in rough areas, it handles better with heavier shock oil, so I will consider trying it if I feel it is necessary.
Brakes are set a little soft, and this seems by design. It is heavy – probably close to 20 pounds, so you will want the binders to grab, and haul it down. The X-Maxx will nose stand on the brakes, this (how it was set from the factory) is a lot softer. But that is likely the better setting/configuration for racing.
I did buy a pair of Spektrum 5000mAh batteries, with the 100C discharge rating, and they are pretty sweet. I got about 40 minutes before I rolled it back into the garage, and at that there was still one more bar on the controller's battery gauge, so it had probably 10 more minutes of run time.
I do wish the SMC 9400 mAh batteries I used in my X-Maxx would fit, those last a LONG time in the X-Maxx. Oh well.
Next things to do
The body mounts to a cage, and part of the cage are two molded passengers (driver and copilot). I want to pull them out and paint them. A nice touch.
Find a good place to drive, and explore the AVC settings. This Spektrum radio has the AVC vehicle stability system. I want to compare it to the TSM on the X-Maxx.
Try it on 6S Lipo's. I have a few that will fit in the battery compartment, so I want to compare it on the full out 8S and the (hopefully) more tame 6s.
Play with the rear shock mounts. There are three choices for mounting that will affect the rear suspension. Let's see what works best.
Get some great pictures.