The Traxxas Ecosystem

The RC bug has bit me, bad. I currently have two RC cars, a Losi 8ight 1/8th scale buggy, and a Traxxas X-Maxx that I bought used (barely used) with Traxxas batteries and charger(s).
But this post is more about the Traxxas RC ecosystem, with a Product Manager's eye on their efforts.
The World as it is…
When the itch to get into RC Cars bites, and you begin researching, it is impossible to not stumble on Traxxas. If you Google "RC cars" after the paid ads, this is the top of the search: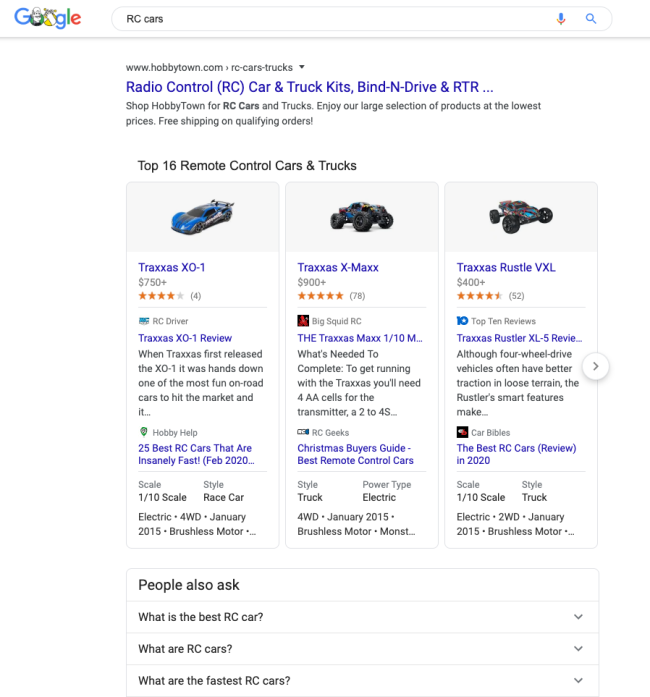 Note that the top 16 RC cars and trucks shows three Traxxas vehicles. If you scroll right, you will see a lot of Traxxas represented, then a couple of RedCat Racing cars, and finally, at position 12, you see the first Arrma, a brushed motor Granite offering (the lowest end Arrma sells).
If you work at Arrma, Losi, Team Associated, etc, you never come up in searches. Your marketing team must be pulling their hair out to try to improve that performance.
However, you are probably doomed to down page results. Sucks, but it is true.
How did Traxxas get here?
It didn't happen overnight, and it wasn't without effort. Founded in 1986, they have done more to define the RTR (Ready to Run) segment than any other player. Prior to this, you bought a kit, and scrounged, found, and built a complete vehicle. At that time, the electric vehicles were poor performers, with the Nitro fueled motors being the bees-knees. RC cars were temperamental, finicky, and messy to run.
Traxxas built a solid following by removing the complication to get started. Really, most hobbies are activities to enjoy, and if you need to spend a week of evenings, or a month of weekends building and finishing a kit before getting the rubber on the road, you are going to find a lot of people tuning out.
Perhaps Traxxas didn't start out to revolutionize the RC vehicle world, but it worked out that way.
They built RTR kits, sourced fuel (remember in the beginning Nitro was king), and batteries to support their vehicles. This meant that parents who were buying into the sport for their kids were able to buy all they needed under one roof, and one brand.
With my decision to purchase my first RC car, the Losi 8ight v3 4S 4WD buggy. I had to do the following to be complete:
Figure out what car I wanted. This was rather enjoyable, so no negative.
Determine what is needed to complete. In my case, I needed a battery and a charger.
Determine what battery connector is required (in this case, the car came with the EC5 high current connector)
Look for batteries with that connector. Trying to stay within the same hobby shop (online) for this to reduce complications.
Find suitable batteries. Still need a charger
Find out that EC5 connectors are not common on chargers, but couple the battery and charger from Spektrum as a good starting point (I am a n00b, so the "Smart" technology was appealing and worth the $20 premium for the battery
Get it all, and realize that the battery is an IC5, but the charger has an IC3 port.
Order the IC5 to IC3 cables to complete the kit
Drive
This complication led to it taking me 10 days to get my first run in. Disappointing. However, I am an adult, so I can wait. If I was 15 years old, I would be whinging.
Compare that with the Traxxas experience.
Figure out what car you want. If you buy it from a hobby shop, you can look at the boxes with glee.
The box will tell you what battery and charger you need.
Find the correct "Completer" kit (battery + charger) and put it in the cart.
Buy it, go home, charge the battery and drive.
That is it. If you buy it at 10:00AM, you can be driving by noon. It is that simple.
This is why I heard an employee at a local hobby shop say that while he prefers the Arrma vehicles, their shop sells at least 10 Traxxas cars versus each Arrma (or other brand).
Lock in…
The Traxxas Ecosystem is comforting. Sure, you pay a lot more for batteries than you would if you were savvy, and knowledgeable, but most people won't bother.
They will continue to pay a 65% premium (for comparable batteries by capacity).
Also, their size and reach in the industry means that spare parts are plentiful. And easily available. If you break something, odds are good that the local hobby shop will have it. If you don't have a LHS, then Amazon or Ebay will have it. Or you can order it directly from Traxxas, as their site is easy to navigate and find what you need.
If you have a battery go bad, they will replace it, no questions asked in the first calendar year. After the year, they will replace it for 50% discount. Thus, the 65% premium is wiped out as long as you stay within the ecosystem.
Quality…
I have heard tell that early Traxxas cars were of great quality, certainly better, and more rugged than the kits that existed in the mis 80's. That quality slipped in the early oughts (so I heard), but has gotten a lot better in the years since.
They are made of high impact resistant polymers. I hear people dismissing them as junky and plastic, but the do take a beating, and the parts to repair are cheap and plentiful. Sure, my Losi 8ight is a joy to drive, but I have had to wait for some parts when I broke a screw doing some maintenance.
If you watch some of the hard core bashers on YouTube, you will see many of them gravitating to the Traxxas rides (also plenty of Arrma there too) and if Kevin Talbot has to launch his X-Maxx to the moon to break it, it will work fine for my much less abusive driving.
Virtually all the serious Arrma owners are replacing radios (the STX2 shipped with the kits is widely acknowledged as trash). The Servo mounts are weak and flex, leading to a vague driving experience. The aluminum chassis is prone to bending, and the plastic braces are commonly replaced with metal braces to improve rigidity, and reduce failures.
By the time you are done bash proofing the Arrma, you have spent an extra $200 to $300. Do you need to do these things? No, but they will greatly improve the platform.
Conclusions…
Traxxas may not be the best, but they are good. Their ecosystem makes it easy to get in, even if you spend more for it, and for most RC enthusiasts, it is comforting to just stick to the Traxxas system.
Many enthusiasts stick with the platform, because, honestly, the cars drive well, are very serviceable, parts are cheap, plentiful and easy to find, the radios work well, with additional features you can add (the bluetooth link is pretty slick) and perhaps switch to different connectors and batteries (because – damn – Traxxas batteries are expensive)
I am going to be replacing the ESC in my X-Maxx, and switching to the EC5 connectors, but I am really happy with that truck.
My next one might be an Arrma Kraton. Or not. But for now, I am loving my two very different beasts. But a little brother to the X-Maxx looks like it might be on the list (the Maxx) or an E-Revo version 2