Apartment Living – The Notice

As we have bought a house, and are having way too many trades people tweaking on it, it is time to plan our vacating of this apartment. This entails giving "notice" of our intent to vacate.
Having read the fine print of the lease (I know, shocking) we know that breaking the lease early is going to cost us 2 months' rent. A bit of a hardship, but not unexpected. Of course, we could keep the lease in place, and hope that they can rent the apartment before the lease is up, but there are 4 months left on the lease, and that is a risk too much to take. (lots of vacancies)
So Barbara informed the office of our plans yesterday. The whole office staff was there. They seemed almost surprised that we were giving proper notice and were going to pay the termination fee.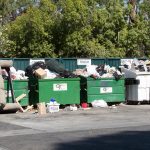 Apparently the preferred method for leaving before the lease was up is to pack and leave on the weekends or evenings when the management isn't on the premises.
Yeah, that is a great fucking idea. Not only will it destroy your credit rating to have a default on a lease, but good luck renting with that hanging over your head.
No wonder why Sundays are the preferred move-out day, filling all the trash dumpsters to overflowing with detritus.
Heck, two doors down from us, the tenants left and abandoned a lot of their personal belongings.
In a way, I feel bad for the people who are forced to do this. While i have railed at the neighborhood, and the deficiencies of the facilities here, I recognize that for the area (Silicon valley) these apartments are considered "affordable". But seeing that we will pay $30K in rent for one year, and knowing that most of the people who live here are in the services industry (our next door neighbor is a chef at a local restaurant. I know how much that pays…) this is a struggle to afford.
I shiver to think about what the next step down is on the housing front. It can't be good.
The good news is that we will soon be moving to our house.