New Guitars: Charvel Pro Mod SoCal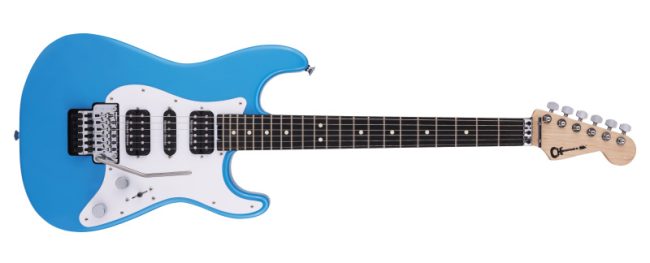 From a peak of 7 guitars in my collection, I had pared it down to just three. One electric, one steel string acoustic, and a student grade nylon string classical in the stable.
But with the pandemic shifting work habits, and the no-commute benefit translated into my picking up the guitar again. In 2021, I was playing more and more, realizing that my 60 watt Fender amp was WAY too loud for my office/den, I talked my wife into buying me a 15W Orange amp for Christmas last year.
And the new gear-itis bit, making me look long and hard at getting a "Super Strat" back into the rotation. One thing I really missed was playing my mid 80's vintage Charvel Model 4 that I sold when we left Tucson in 2012.
Thus, I found myself browsing the Charvel website, and came to focus on the Pro Mod series. No, it isn't made in the Fender factory in Corona (those start at about $2,300) but instead in the Mexico facility. I ordered one that was near new from a seller on Reverb, and I was delighted when it came in. It is the Robin's Egg blue, with an ebony fretboard, 22 jumbo frets, a compound radius fretboard, and a Floyd Rose tremolo.
There are three pickups in an H-S-H configuration, and the switching give access to tons of tonal variations.
Some of my observations of 9 months of playing pretty regularly:
The Floyd Rose: I was largely terrified of the prospect of keeping a floating tremolo in tune, and worse yet, the hassle of changing strings (you have to clip off the ball ends to replace strings). Turns out that this was a non-issue. The locking nut, and the locking tailpiece makes the tuning super stable, that after the strings stretch in, the thing is just in tune. All the time.
The Neck: the reason I loved my 80's vintage Charvel was largely because of the neck. Super thin, fat frets, and unbelievably fast to play. This nails it, and when I was shopping, I looked at a Fender American Professional Strat (that was about $800 more) that felt like a log. The neck is the reason to love this axe.
The Electronics: while not active, the three Seymour Duncan p'ups are high output, bright, and versatile. A great sound, with tons of tonal variation that gives you a huge range of sounds. Want to play some gritty blues? Check. Some blistering melodic lead lines? Check. Some grungy metal power chords? Check? Back off the tone pot and play some soft lush ballads? Check. If you want to play it, this guitar can get you there.
In short, it is an amazing package, at a fair price (I paid just shy of $900 for this) that just plays like butter. The Tom Anderson is safely tucked into its case, while the Charvel is what I reach for.