A year on the Trek FX6 Sport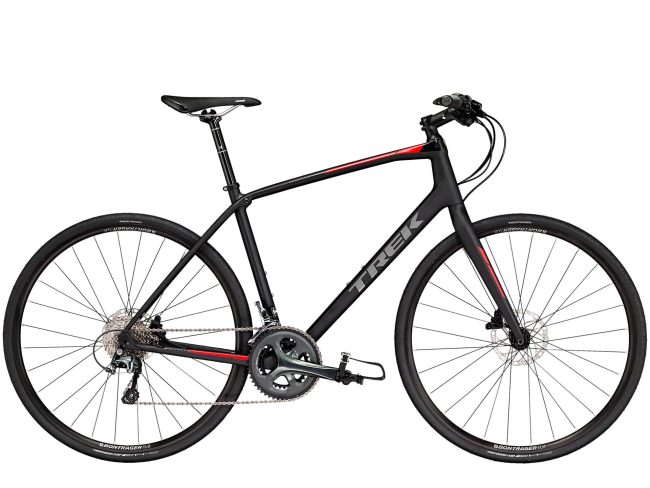 With a year, and about 1200 miles of riding under its belt, it is time to do a follow on update from my original review.
WHile the number of miles is pretty modest (dealing with my step father's trust and estate consumed way too much of my time last year), I did get a solid feel for the bike.
The Good
The frame and major components are amazing. I had long resisted the lure of carbon, clinging to the steel of my old Lemond, or the preferred aluminum for my mountain bikes, but that was a foolish resistance (well, not entirely, the first carbon bikes I remember were carbon tubes epoxied to metal juncture points and had some notable issues) that I am fortunately through with.
Frame, fork, and groupset are amazing. The ride is supple, with enough flex and give that the ride is comfortable. Additionally, Trek has some widgets in the frame that improve the "cush" factor.
The Shimano 105 groupset is also solid. I remember my first bike with a 105 group, a late 1980's vintage Specialized Allez. My first indexed shifting bike, it was simple, reliable, and easy to work on. The quality, performance, and integration of this version of the 105 is amazing. My Lemond that this replaced had an Ultegra triple group, and I liked it a lot (probably north of 15K miles in the years I owned it) with only one failure, the budget bottom bracket that was included (non ultegra). But this 105 feels as good or better than the Ultegra.
Of course, it isn't all unicorns and skittles, as part of the group will be listed in the bad to follow.
The wheels are solid. They are built strong, no reduced weight race lacings here, these are built to take some abuse, and at my weight, I need that. They have remained remarkably true, only needing very minor tweaks to keep rolling the right way. They have sealed cartridge bearings, and have required 0 maintenance besides the aforementioned minor truing.
The brakes are solid, strong, and progressive. One warning though, I hang the bike upside down in my garage (or I used to) and the brakes would get soft, and need some pumping to get air out of the lines. I don't blame Trek or the TekTro brakes, this is on me.
The Bad
Not too much here, but one part of the amalgam of the up right riding style and the groupset. Most flat bar bikes are either mountain bikes, or much lower price point bikes, with bargain components. This has led to a dilemma.
The Shifters. The 105 groupset comes with the standard brake/shifter combo that is designed for the classic road bike drop bars. Clearly that doesn't work in a flat bar install. So the manufacturer at Trek selected some comparable (compatible) mountain bike shifters, that kinda work. But they are a compromise. The shifter for the chainrings is for a triple, so you have to skip the middle index to shift up or down. That works well.
But the rear derailleur is a bit of a mess. I suspect that the index positions don't match perfectly with the 105. Thus, if you get the cable perfectly adjusted it will shift OK, mostly, but as soon as it stretches, say, after a ride or two, the shifting gets fiddly. Is it a deal breaker? No, but it does annoy. Clearly, the shifters are not a 2×9 drop in replacement.
It is causing me to consider asking the shop if we can find some Shimano XTR 2×11 shifters that would drop in. That is the cheaper alternative. But I do have a dream to upgrade to an Ultegra Di2 group, with the electronic shifters. That would be the bomb (and likely a $1500 upgrade – gulp).
While the wheels are strong and well suited to my riding and current ahem weight, they are heavy. If I get back into shape, lose say 20#'s, then a better set of wheels will be in my shopping cart. Probably not carbon rims, but better aluminum will be in store. I ought to be able to drop at least 1# on each wheel which will make the bike a lot more fun to ride.
Summary
After a year, the Trek FX6 Sport has acquitted itself with aplomb. It couples a great carbon frameset, with quality components, with remarkably few cost saving decisions. It rides, handles, and brakes exceptionally, and provides a safe, yet fun ride.
I do not miss the old Lemond. It served me well for a long time, but as myself and my body age, I needed a different ride, and the FX6 Sport was the perfect antidote. If you are in the market for a quality, solid hybrid "fitness" bike, I can wholeheartedly recommend the Trek FX6 Sport.
Money well spent.