The X-maxx Files – Day 1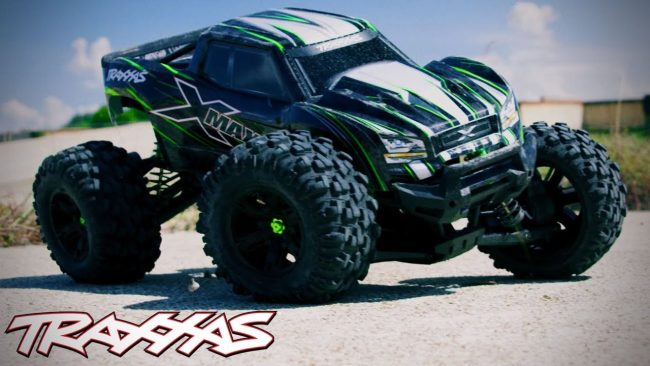 As it arrived yesterday (super fast shipping for those who care, I Paypal'd the money on Thursday, and the truck arrived on Monday) I felt the need to get the rubber side down and test it out.
First, the body is perfect. No noticeable blemishes. A stock X-maxx with any real 'bashing' on the clock will have some scrapes, gouges, and possibly cracks in the lexan shell. It is clean.
Inside, it was super clean (note: was, as I did get it out) and pristine. It shipped with the 2 6700mAh batteries in it, and with two Traxxas ID chargers, that would come in handy when it is time to recharge the batteries.
It appears that the ESC (electronic speed controller) was set to "race mode" so it was 100% forward, 100% brake, 0% reverse, and that will get reprogrammed today. I like being able to back my way out of jams…
Also, I think it could use a calibration of the ESC as well when I switch modes. Good things to learn.
I do have a few goodies I bought for it, a front bumper mount, a high torque steel geared steering servo (recommended by all) that also comes with a stouter servo saver, and body braces.
Future upgrades:
Proline Badlands tires/wheels. Universally regarded as essential upgrades for a brute like the X-maxx. I will wait until I grenade a stock tire.
Steel gearing. The stock drive has sintered steel pinion and spur gear that tend to disintegrate under heavy abuse. A Hot Racing or GPM set will be inbound. I don't think I want/need to gear for the moon, I am not Kev Talbot after all, I will probably keep it mostly stock ratios.
RPM A-Arms. I will buy sets for front and rear to keep on hand, to replace the stockers when they break (and they will).
RPM Wheelie bar mount.
Proline "Rugged" body. $117 is a lot, but it is a lot more abuse resistant than stock.
Driving impressions
It is big. No, I am serious it is BIG. Compared to the lithe, agile Losi 8ight, this is a beast. Since the street was wet (we had a bit of rain in the afternoon), and provided not much traction, it wasn't possible to get to speed, but donuts, power slides, and big braking maneuvers were easy-peasy.
The stock steering servo is a bit slow. Responsive, but not an immediate "snap" like on the 8ight. Supposedly the upgraded servo fixes that. It will go on this weekend.
The tires are ok. It was wet asphalt, not the greatest environment, so I will find some "dirt" this weekend. I suspect they are fine, until I have the $180 to spend on replacements. (this is big, and the tires are not cheap)
As mentioned earlier, it was set up in "race" mode, so no reverse. Thus, a couple of time I had the truck jammed, and had to do the walk of shame to un-stick it. Will get that fixed today.
In general, I LOVE it. It is solid, planted, nimble (for the size) and just goes. I think I will want to refill the shocks with higher viscosity fluid, especially in the front, but otherwise, no obvious changes.
Day 2 update
I did set the proper mode on the ESC (100% forward, 100% brake, 100% reverse) and recalibrated the remote, and now it drives saweeeeeeeeeeeeeet. Fast, responsive. Will pop an amazing wheelie. I did a full reverse and flipped it.
Yowsa, this thing is a beast!
I did add the reinforcement to the body (RPM kit to prevent the lexan from being torn up) and I will definitely buy a more robust body.
Now, I need more batteries, and a good off road place to run.
Next Steps
The Traxxas batteries and charger(s) are perfectly matched. It uses some proprietary Traxxas connector that has the Lipo balance signals in the same connector. Convenient, but not terribly useful outside of a Traxxas ecosystem.
I will want more batteries, so I have a decision to make. Do I cut off the car's battery connectors and replace with XT90 or EC5's? Or do I just suck up my pride an buy more Traxxas batteries (they are about 40% more than comparable batteries on the market, but with wicked good warranty).
The above decision is impacted by whether or not I replace the ESC. Most people loathe the VXL ESC, and it has a history of dying, or even catching fire. The popular choice is the Hobbywing MAX6. That would be a good time to move to different connectors. But then.I would lose the ability to use my Traxxas batteries. Especially if I invest the $270 to buy a second set.
I do not need to make that choice today, but it is looming.
Regardless, this weekend, I will clear off the workbench, and do some work on the front end. The servo will get replaced.
Next post – Thoughts on the Traxxas ecosystem