Saying goodbye to an old friend
Today is a sad day, but also a hopeful day. It is time to say goodbye to an old friend, my Fender Telecaster guitar. It is going to a good place, it will be under the tree for a friend's high school aged son, who wants to learn to play guitar.
Still, it is not without some reflection of my past, that is now going away.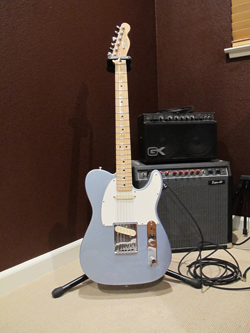 It isn't particularly rare, or exciting. It started life as a new guitar to augment my, at the time, well aged, and slightly abused Charvel that I bought in 1986. I bought it in 2002, and it came from The Musicians Friend. A "Made in Mexico" Tele, it was a true Fender, not a Squire. At one time the "Made in Mexico" meant an inferior product, but those days are long gone. It was nearly the same quality as the "Made in the USA" version, but about 1/2 the price.
Out of the box, it was fine, but the standard Tele electronics were as expected, a bit thin, compared to the awesome Jackson active electronics that I came from. So, the EMG pickups were a natural upgrade. Really opened up the tone, I still had a great, "fat" blues tone, but it did a decent crunchy tone too by dialing on the knobs. A good all around sound.
One other weakness of the MiM Tele was the cheap tuners (to be fair, the USA versions had the same shitty tuners too), upgraded to the much smoother, and better tune holding Strat tuners. A great $40 upgrade, at the same time as the setup by a really good tech in Tucson.
Since this was my "blues" guitar, I had it setup for great action with 10 gauge strings, and man, could it play.
Alas, since I bought the Tom Anderson, the most expensive guitar I ever bought or owned, I found that the Tele was living in its gig bag, unplayed.

Since a friend asked some of his musician knowledgable friends about what to get his son for Christmas, I offered the tele for a song. Really a no brainer, a fine guitar deserves to be taken out and played. Hopefully, it will make the recipient happy, and will provide him an entry into the world of Guitar.
I am sad to see it go, but with my arthritis, the ability to really play with the stiffer strings is really curtailed. But the real tragedy (or progress?) is that for the first time in over 30 years, I will be down to only three guitars. The above mentioned Tom Anderson, a beautiful Taylor 814C, and a really nice student grade Takamine nylon string classical.