Bicycling Magazine – what world do they inhabit?

I have posted about the ridiculousness of Bicycling Magazine in the past. I do not purposefully subscribe, but instead I get a copy with my Performance Bicycle membership.
Every month, this rubbish appears at my house. This month's edition has a giant picture of a rear cassette from SRAM that has 11 speeds. Of course, you have to go to page 94 to figure out why the fuck they have this (hint: it is a way to have only one chainring on your crank, and still ride a wide variety of terrain. Of course, they say that unless you are a novice, or have very specific needs, don't buy it).
On the cover there are leaders for:
A pizza that is rocket fuel for riding (It is a restaurant in San Francisco making a wood-fired Naples style pizza)
Pot and riding (in states where recreational marijuana is allowed, and yes, WADA will still fuck up your shit if you compete and piss positive.)
And, a lame link to one of their Q&A's on what to do if you get dropped.
Yes, the last one. I had to look it up. It is referring to being on a group ride, and being dropped means that on a climb, you lag and they all tear off ahead. How to handle that (just keep riding, no need to apologize, because some of us are fat fucks that can't climb worth shit.
Of course there are plenty of reviews of bikes. Herein lies my biggest grief about this magazine. Virtually all the bikes they test and review are $2800 and above. Yes, some times they go bargain shopping, but far more likely what they are reviewing is a $6K bike.
Seriously, their attitude is that you don't get into anything worth riding until you are well above $3,500. That is just fucking whacked.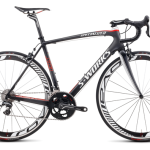 Would I be able to tell the difference between my $1200 Lemond Buenos Aires and a Specialized S-Works? Yep. Would I be able to discern an $8K price differential? Nope.
The funny thing: For the last 3 months, I have received an: "Act NOW!" letter to renew my subscription. Really, like I want to spend $20 a year on this rag.
Last article I read: On the benefit of going to bicycle mechanic school. Starts with a tale of a 26 year old racer who has been on the pro circuit since she was 13. Never twisted a wrench, it was done by her father or a mechanic. So she went to school.
Seriously, if you don't have enough mechanical intuition to do the basics (adjust cables, change and adjust brakes, lubricate bearings, true wheels), just take it to a shop. For fuck's sake, you don't need to go to school for that shit.