The Kitchen

Before moving into our new house, we are having a lot of work done. While the "bones" of the house are in good condition, it is clear that some of the extremities were in need of some massive overhaul. The Kitchen Appliances are one of the worst offenders.
As a former professional chef, I am lucky (cursed?) with the ability to make anything "do" around cooking. Old stoves, inadequate ovens, etc, I can survive with it. Hence I have never felt the need to spend the money to upgrade appliances unless they are broken.
Doubly bad, having tagged along with my step father, an appliance repairman, I am pretty good at keeping appliances alive.
Thus, I have worked with some pretty crappy gear in the homes that I have owned. From the AEK at the condo I first bought, to the so so gas range in Tucson (neither good nor bad, but a serviceable GE unit) to the radiative heating stovetop at our Chandler house, I was able to cope.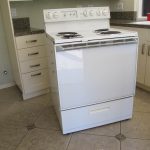 However, now that we have bought a house here in San Jose, it is time to splurge. The appliances in the kitchen (stove/oven, dishwasher, and microwave) are all abysmal. The dishwasher is just yucky, I don't want to even touch it. The oven/stove? Well, it is a 1970's vintage Roper that is not only plain, but in pretty rough shape. The burners are the old coil type, and the drip pans, well, instead of spending $15 to replace them, they were just wrapped in aluminum foil.
So we plopped down some bucks for new appliances. Since we are doing a lot of other work to the house, the new appliances haven't arrived yet, so this will just document the meh that was there. The stove will be a sweet gas slide-in Kitchen Aid unit that will probably be the best stove/oven I have ever worked with outside of a commercial kitchen.
I have already replaced the halogen "can" lights in the kitchen with LED's, and added dimmer switches, so it is slowly, but surely becoming ours. Next week the plumber comes to fix a few issues, and to plumb gas into the oven area.
I can hardly wait to move in.