Wow, am I out of shape – Mountain Biking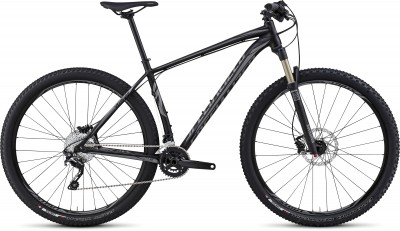 On moving back to the San Jose area, I started fantasizing about getting back into mountain biking. When we moved to south San Jose, close to Santa Teresa Park, the urge grew.
My last mountain bike was a Specialized Stumpjumper Comp M2. I think I bought it in 1997, when I lived here before. A really nice bike when I bought, I rode the hell out of it, all over the bay area. Unfortunately, living in Arizona, I got out of the habit. Not that there wasn't great riding, but I just didn't get with it there.
When we moved from Tucson to Chandler, I hadn't ridden the mountain bike in a few years, so it was sold at our moving sale. In Chandler, I got back into road riding, racking up lots of miles on my Lemond Buenos Aires.
I ended up buying a new bike. A Specialized "Crave" Expert model. A hardtail, 29'er bike. Not top of the line, but a high quality ride nonetheless.
Today I took it for a first ride. Santa Teresa park. The climb up Bernal road was brutal, but getting to the top, and veering onto the trails was bliss. The reflexes, and the skills are still there, a little dormant, but they come back.
I am embarrassed with how many times I had to stop to rest. I will get back into shape, but, it is going to be brutal.
A future post will give a review of the bike.