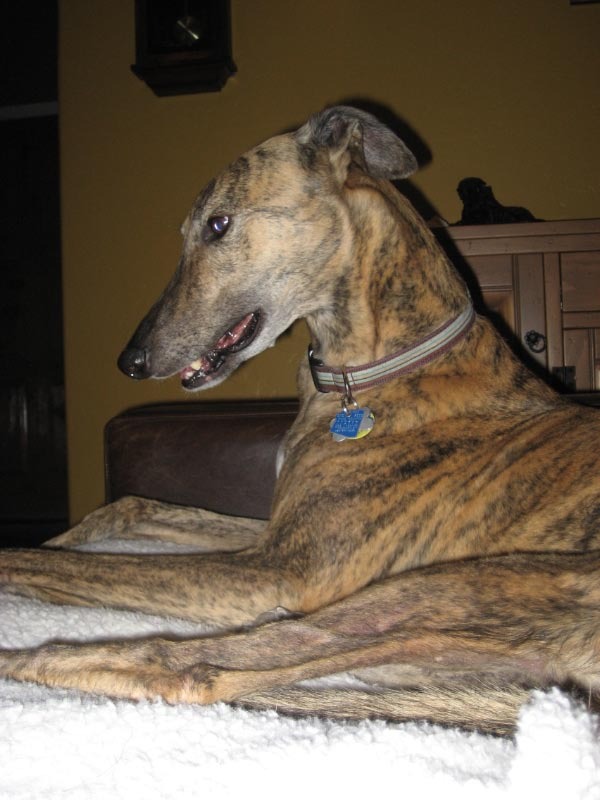 I have always been a dog person. Some people are cat people (up to the "crazy cat lady"), some are dog people, and some people shouldn't do pets at all.
Currently, I have Greyhounds. Two brindle boys, who are 3 years apart, and are half brothers. Garrett is the elder statesman, quiet, reserved, and eh loves to sleep. Tate, the junior hellion, is the high energy, outgoing, engaging ambassador of the breed.
I first met greyhounds back in 1998 or so, when I moved into a condo in south San Jose. A neighbor had a pair of retired racing greyhounds, and my dog at the time, a 185# english mastiff, loved to play with them.
After we moved to Tucson, and Astro passed, we looked into a rescue greyhound.  Our first, Oliver, was a skittish 'fraidey cat. He was spooked by EVERYTHING, including bicycles, cars, walkers, other dogs. This was definitely a challenge, but he really became a well adjusted greyhound. (It helped that his brother, a half mastiff, half hungarian greyhound was a good tutor).
When we lost Shamus (the half mastiff/half greyhound) in 2008, he was 13 years old. the void was quickly filled with Garrett who was just awesome. Not afraid of anything, low prey drive, and easy going, he was a joy, and a good companion to Oliver.
We lost Oliver in 2010 to osteosarcoma (bone cancer). He was brave and a fighter to the end, but the location of the sarcoma (right shoulder) was pretty much a non-treatable malady. Fortunately, Oliver's departure made room for Tate.
For a couple years now, we have been volunteering for the local Greyhound rescue organization. I work closely with the communications group and I built/maintain their website (http://sagreyhoundadoption.org). It is a worthy way to spend my spare time, helping place these wonderful hounds into loving forever homes.