My first Arrma RC: The Felony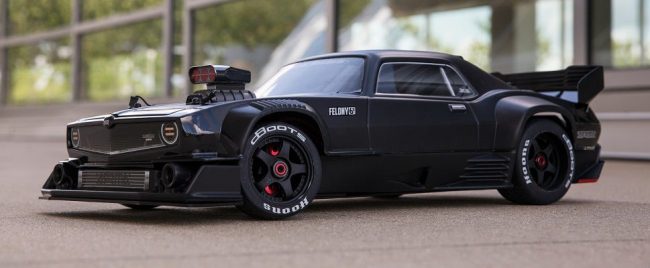 When I first began to get interested in RC cars, I spent a lot of time comparing several different cars and one of the brands that was very interesting was the Arrma cars. They make great bashing cars, in a wide range of styles and configurations.
One of my first shopping trips to a local shop was illuminating and I was able to see and touch a lot of different cars. One that was eye catching was the Arrma Infraction, a street basher that looked a little like the Hoonitruck, the car that was highlighted on the gymkana videos from Ken Block.
I wisely realized that it was above my skill level, but I knew that it was something that I needed in my collection.
Fast forward to the end of 2020, a lousy year by any measure you might want to cite, Arrma has launched a street basher called the Felony. Sharing a lot of components with the Infraction, it is a 6S brushless monster, all wheel drive car with an amazing set of components.
Aggressive styling, a well balanced front and rear, with a solid suspension package, all together it makes an impressive piece of kit.
I ordered it in November, but alas, it was on back order. A side effect of the pandemic is that people are at home, and they are picking up new hobbies, and one of these hobbies being RC cars, and a lot of the more popular vehicles were on backlog.
Alas, last week it arrived.
On Saturday, I charged the batteries, and drove out to my favorite parking lot (a VTA Light Rail park 'n ride station) and gave it a blast.
First, it is amazingly responsive. It is blazingly fast. So much power always on tap. I used the bundled DX3 controller, and made no changes to any of the settings. It has the Spektrum AVC, and this car needs it. Super stability control, that helps it drift like a boss. And drift it does. There is enough power on tap to spin up all four wheels at any time. Kind of like watching a Ken Block Gymkana video.
One word: WOW.
Definitely not for the timid. With the stock pinion gear, it accelerates like a striped ape. I hesitate to consider putting in the larger pinion for speed runs. Alas, I don't need to get to 85+ MPH, and I can't imagine finding a place with enough runout to get to that top speed in any case.
Of course, it isn't all skittles and unicorns. This beast has enough on tap power to get to insane speed almost instantly, and it can get out of control in a hurry. And I did find a couple of curbs and bent up the front splitter. My parking lot is empty, but they haven't been doing any street sweeping, and the debris isn't compatible with the low ground clearance of the Felony. I will have to do some scoping of corporate parking lots to do some weekend bashing on. Need to avoid speed bumps too.
Additionally, besides it taking me 3 months to get my Felony, the front and rear tires are different sizes, and the rear tires are larger (both wider and taller) and the rears are unique to the Felony, and in short supply. Add that to the power to spin all four wheels on demand, the tires are going to wear out fast. Fortunately, I have laid in a supply of them (the front tires are not as dear, since they are the same size as the four that are on the standard Infraction.
I do see people who are upgrading their Felonies to 8S with the Hobbywing Max6 and motor combos. But I can't imaging wanting this with any more power. Madness.
Next up, I will try to repair the splitter (it isn't broken, just bent pretty good) and order a spare, as I suspect that contact with curbs is not going to be a rare occurrence.
I will also program the ESC to up the braking from 75% to 100% (the default setting is 75%) although I am not certain that it will help with braking as the current brakes are powerful enough to lock the wheels up.
Lastly, I will rebind it to my Spektrum DX5 Rugged transmitter. One less transmitter to keep track of.
In the far future, I will buy a clear body, and paint it up in the livery of the original Mad Max interceptor. That will be a shelf queen body.