New Car time: 2020 Acura RDX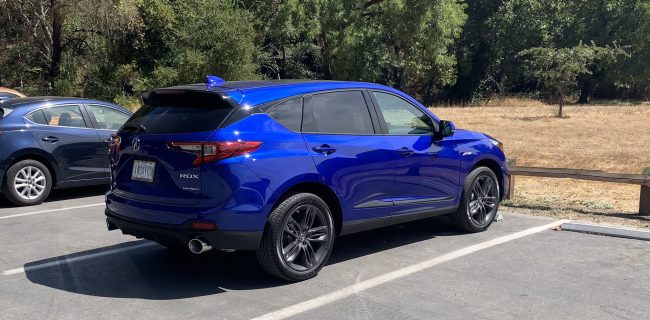 A while back, I began to consider the idea of moving on from a long term relationship, with my sports car, the Honda S2000 that I bought in 2008, and have lovingly cared for and driven since. It was still tons of fun to drive, a real sports car and perfectly balanced vehicle, but the sitting position, and my creaky, aging body were falling out of love.
Last fall, my stepfather passed away, and as the trustee of his estate, I had to take possession (not ownership) of his 2017 Jeep Cherokee Trailhawk. Driving that around, a compact cross over SUV, I discovered that it was a much more enjoyable (ergonomically) drive than Stewie. While one of the other heirs claimed the Jeep, I went on a hunt for what could be a suitable replacement for my trusty S2000 rocketship.
The search is worthy of its own post, but I narrowed it down to either the top end Mazda CX-5 or the Acura RDX. After two test drives, the Acura won the battle.
Last week, after the distribution of the funds from the estate I took the plunge and paid cash for a 2020 Acura RDX with the A-Spec package, Super Handling AWD, in Apex Blue Pearl. Having put over 600 miles on, including some mountain roads (Stevens Creek park, and Kennedy/Shannon road in Los Gatos) I can make some initial observations.
I originally was looking for an RDX with the Technology Package, SH-AWD and in Fathom Blue Pearl color. Apparently, the blue cars are few, and often spoken for before they even arrive at the dealer. So I let the dealer talk me into the Apex Blue of the A-Spec package (mostly a trim uplift, but with better sound system, and seats). It wasn't too difficult on their part.
Fit and Finish
One of the cars I looked at early on was the Honda CR-V, a compact SUV. A typical Honda, the fit and finish of the CR-V was quite good (and better than the Mazda). However, the Acura is a step above both of those. Perfectly aligned gaps, well apportioned interior, solid feeling doors (honestly, the Japanese have figured this out well, far better than the domestic makes in general), and gorgeous paint.
While I have yet to wash it (that will be a today job), I expect to find no overspray, no flaws, and in fact a near perfect finish.
Update – I have washed and waxed it, and the paint is pretty much flawless. I will be doing a full polymer seal and protection on it when I have a full weekend to burn.
Interior
The A-Spec trim package comes with cool foot pedals for the brake and accelerator, not quite as cool as the very utilitarian set on the Stewie I traded in, they are a nice touch.
The leather seats are both heated and ventilated. While I live in the land that makes heated seats unnecessary, I am going to admit that the ventilated seats are da' BOMB.
Speaking of the seats, they are insanely adjustable, and amazingly comfortable. Stewie's seats were comfortable, for a sports car, but this is a huge level up. Sure the luxury European marquees have more adjustability, and even some cool options like massaging. I view that is too far, at least for my unrefined butt.
The passenger area is very spacious. In fact for a compact SUV, the rear passenger area is top flight space wise. Comfortable, spacious and well appointed. No, no video screens or other amenities, but I don;t have kids so that isn't really a "miss" for me.
The rear seats fold flat, and in a really cool option, there are seat releases in the back, so you don't have to open the side doors to fold the seats down to increase the cargo area. Way cool.
The controls are intuitive (I'll get to the touchpad infotainment system interface later), and easy to use. In less than a week, it has become second nature. Like all Honda products, a lot of the common things are on the stalks on the steering column, and are well thought out, and functional. The auto headlights work, and work well. (The Jeep had some wonkiness here) It hasn't rained, so I can't comment on the wipers, but I am sure they function just fine.
Transmission control is an interesting device in the center console. Once you have used it once or twice, it is second nature. The Drive button can be pushed a second time to engage the "sport" mode where you can use the paddle shifters. I haven't messed with that yet, but I am sure it works just fine.
As is common these days, the parking brake is electronic. It functions.
One complaint I read about is that there are too many reflective surfaces inside the cockpit, and that can reflect glare into your eyes. I pooh poohed that, but it is true. Not super annoying, but it is real.
The instrument cluster is like most modern cars. Multifunction display with many screens including tire pressure, trip meter, torque vector indicators of the SH-AWD system, and in Sport+ indicators of turbo boost and G forces (gotta love MEMS accelerometers). Intuitive, and easy to navigate. The Speedometer and Tachometer are both analog dials. I like that. Too often they are now video displays on new cars.
I have ordered the all weather mat kit and the cargo protectors. I am still waiting for the dealer to call and schedule the install.
Technology
This car is loaded. Again, pretty sure the European luxury marquees have more gadgetry, but this "near luxury" vehicle is solid. The usual suspects are all included:
Infotainment center – A multifunction area, with a display, media playback, Carplay connectivity, voice control, and an innovative UI element, the touchpad.
Blindspot monitoring – Uses radar to alert you to when there are vehicles in your difficult to see areas
Lane Keeping assist – It has forward looking cameras and some intelligence. It will steer the car to keep you centered in the lane. I have tested this and I can say I am surprised it works as well as it does. Not sure I will be a heave user of this, but I can see the attraction to this especially in heavy traffic
Backup Camera Cross Traffic Monitoring. I assume this uses the radar feature, but it can alert you when backing out of a parking spot to cars that are a danger and invisible in the video image. Pretty cool.
Adaptive Cruise Control. I have heard about this for a long time, but this is my first experience with it, and I like it. I need to use it a lot more, but the last couple of days commuting home, I just set it to 70MPH, and turned it on with the longest follow distance, and it was like magic.
Lane drift monitoring – This weirded me out at first, as it uses the same camera and algorithms, but it is non intrusive – a warning on the information display, and a very slight haptic wiggle on the steering wheel – that it isn't too annoying
CMBS – or "Collision Mitigation Braking System", some automated braking. I don't plan on testing this, but I do see the "BRAKE" alert occasionally (of course I was paying attention, and it wasn't an emergency.)
Other tidbits – Parking sensors, keyless remote, really good audio (some people grumble about the bass, but I am not one of those whose car must Thump), Carplay – great integration with my iPhone, and other expected touches at this price point.
Driving Impressions
Stepping out of an S2000, a finely honed and optimized sports car, into this "sporty" CUV, I knew I was going to give up a lot. The S3000 drove like it was on rails, a go-kart with impeccable handling, monster brakes, and a near perfect weight distribution in a read wheel drive car. The 6 speed close ration transmission, wrap around seats, and a low center of gravity made it pretty much awesome to drive.
The RDX is quite good on its own merit. It is a heavier vehicle (slightly over 4,000 pounds), and its turbocharged 2l engine is very different than the naturally aspirated 2.2l short stroke, screamer in the S2000.
The first thing I noticed on my test drive was that there was tons of torque. Almost from idle, it pulled with authority, and acceleration, paired with the quick shifting 10 speed automatic is impressive. While I am still into the wear-in period, I have yet to put my foot into it yet, but I can tell that it has plenty of oomph.
If you browse the forums for the 3rd generation RDX at Acurazine, you will find some of the complaints about the brakes. They are mushy, or imprecise, or not confidence inspiring. I am here to state – unequivocally – that the brakes are progressive, ample strength, and have excellent feel, for a 4,000 pound vehicle. From reading the complaints I thought I would want to hunt down improvements (better pads, braided steel lines, and possible better discs) but I have to admit that as is, the brakes are fine.
The tranmission is a 10 speed automatic with double clutches. It shifts very smoothly and so far the shifts have been positive and glitch free. The transmission has 4 different modes, Snow (what the hell is that, I live in San José), Comfort, Sport, and Sport+. From what I can tell Comfort shifts early, and keeps the revs down, while sport gets a quicker shifting algorithm. I haven't spent much time in Sport+, but it seems to be slightly more aggressive at keeping the engine in the sweet spot power wise, and it adds two cool things to the information display, a G-force meter and a Turbo Boost meter. (What the RDX really needs is that loud wastegate that tuned Subies have) No issues in the 300+ miles so far, it is comfortable loping on the freeway in Comfort, or driving the tight and twisties in sport mode. All good.
Again, as I am still in the break in period, I haven't done any spirited driving. That said, when I do put my foot into it, I am not expecting it to rival the S2000. That would be stupid. But given its size, its center of gravity, and the AWD, I expect it to be up to the task of keeping a smile on my face.
One disappointment is that the fuel efficiency is meh. I got a pretty consistent 22 mpg with the Stewie, but so far I am just about 20 mpg, on my third take. It does seem that as it breaks in, the efficiency improved, but it will never match a CR-V, or a Rav4 Hybrid. But, then again, I wouldn't enjoy driving either of those cars.
Other thoughts
Having done plenty of research on this purchase, I spent a lot of hours browsing the forums, looking for what people thought were weaknesses. This breaks down into a few general categories, but in general are dominated by complaints about the infotainment system.
It is de riguer these days to have a large-ish display for infotainment with some interface, usually touch, or some knob selector, for interacting with it. The infotainment system is often a mashup of stereo, navigation, vehicle control and other functions. A little computer in your car. The RDX is the first generation of Acura that uses a touchpad interface instead of a touch or knob. Many complaints (especially in the technical press) about this input mechanism. I will report that it took me a coule of days to get the hang of it. Once you figure it out, it can be quite intuitive. Is it less distracting than having to takeyour eyes off the road and lean forward to touch a screen? The jury is out. But it works, and I have had no intrinsic problems.
This is the first car I have driven with Apple Carplay integration, and I will admit that it is cool, if somewhat underwhelming. I am not sure what I expected, but it is a solid extension of IOS. I can use the phone's navigation, or Waze, if I desire. It has access to my music, as well as the apps for Spotify, Amazon, and Google Play. But it is not too much wow. I like it, and for longer drives I plug in my phone (commuting to work is almost not worth it).
But the forums have people who hate on the infotainment system. That it lacks Android integration (the technical holdup seems to be awaiting for Google to support the touchpad interface), that the playing of music from a UDSB drive is wonky (seriously, who cares these days with your phone and streaming apps) and some reboots/lockups, typically associated with said USB storage.
One of the funniest things I read was where someone compared it to the Uconnect system that comes on Fiat Chrysler vehicles. They in all seriousness claim that it is rock solid, and a goal that Acura(Honda) should aspire to. snort I drove my stepfather's 2017 Jeep Cherokee for several months and I can say without irony that the infotainment system (top end Uconnect) was shit. It hung, it crashed, it got non-responsive. It had a SD card for music, and it was infinitely picky about the format and the cleanliness of the files on the card. In short, it (Uconnect) was not some benchmark worth admiring.
So far, it has been flawless. I will decide at the end of the trial whether to continue the Sirius XM radio subscription, but I probably will just for the Classic Vinyl station.
AcuraLink – This is connectivity to the outside world, and some cool features. Pretty much all cars these days have a cellular radio, and the RDX is no outlier. It enables OTS updates of the infotainment system, and the ability to report accidents and other information directly. It comes with a trial subscription and an app for your smart phone that you can use to monitor things like tire pressure, whether it is locked, or to apply some limits if you have teen drivers (geofencing, speed warnings, etc). Also the ability to locate your car if you lose it (or it was stolen). Free 6 months subscription, I will see if it provides enough value to extend.
Memory of seat/mirror settings. The RDX comes with two keyfobs, one for driver 1 and one for driver 2. These also map to stored mirror and seat settings. Presumably, when my wife will drive, it will remember her settings. Pretty much a standard feature these days, it is cool nonetheless.
Ventilated Seats – While I live in a place that rarely gets cold enough for me to give a damn about heated seats, I can say – without reservation – that I really really like the ventilated seats. More cars need this. Seriously.
Blind Spot Monitoring this is a godsend. The S2000 had pretty massive blind spots because of its soft top. The Jeep Cherokee I drove for a few months also had some monster blind spots (and no blind spot monitoring). The RDX has it, and it works well. There is a little indicator light at the inner base of the rear view mirrors, so when you glance in the mirror, you can instantly see that there is a car in your blindspot. I like hos Acura has done this verses those who have it in the mirror itself. Personal preference.
I will admit that I am really grooving on the Adaptive Cruise Control. First car I have ever had with it, and it just works. Still learning to trust it, but even in stop and go traffic, it does well. Lane Keep Assist is also pretty cool. Above 45 mph, it will help steer to keep you within the lane. Not sure I trust it enough to remove my hands from the wheel, but so far it has been flawless.
Summary
After 3 weeks with the RDX, the new car sheen hasn't worn off yet. I know it will, but for now, I am still pretty satisfied. Sure, the Lexus and the Audi have more luxurious appointments, but I am a driver first and foremost, so I wanted it to cater to my needs (the Lexus in particular felt too squishy) yet have enough comfort and amenities.
The RDX meets my needs and does it with panache and aplomb.
But, like the Stewie it replaces, it needs a nickname. That will take some thinking.