Time for new Tech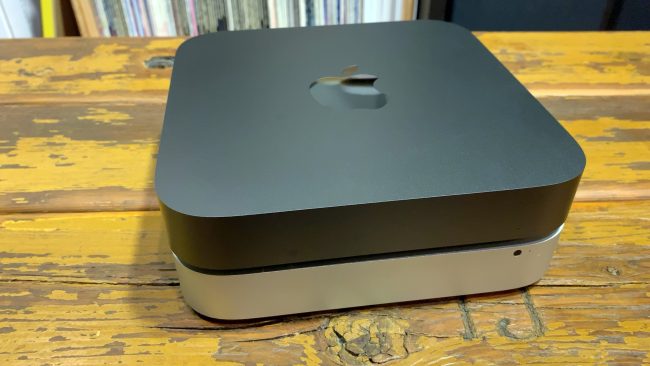 My last "fresh" computer I bought was a 2015 vintage MacBook Pro, 13″ with retina display. I bought it refurbished in 2016, and it has served me well, but it was getting tired.
All the while i had a 2014 vintage Mac Mini that started life as a editing computer for my wife's video production consulting. It was decent for the time, a dual core intel i7, with 8G ram, and a terabyte "hybrid" disk. But it has been feeling its age, and with the payment of my salary from the trust/estate, I vowed to upgrade my tech.
The 2018 Mac Mini
Released in fall of 2018, this is not your grandmother's Mac mini, It comes with a quad core i5, and can be configured up to a 6 core i7. It has replaceable memory (unlike the 2014 vintage's soldered to the logic board ram), and supports up to 64 gigabytes of ram. It has a soldered on SSD, configurable from 256G up to 2TB.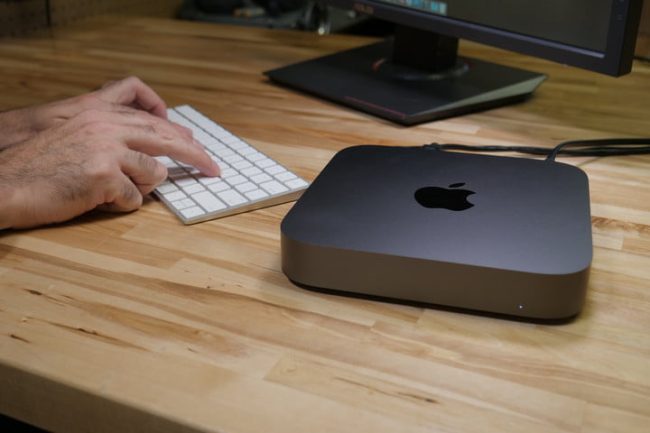 I selected the 6 core i7, 8G ram, and 500G SSD. I have a jumbo, fast enough Drobo array for larger storage, and I am not too shy to open the thing up and install Ram purchased elsewhere (for about a 40% discount from the Apple price).
It arrived yesterday, a couple days after the nifty 32G upgrade kit from Other World Computing, and after the new monitor I bought for it, a Dell 4K Ultrasharp 27″ panel.
My first order of business was to install the memory, to not even boot it up with the paltry, pathetic 8G ram. It is remarkably easy to work on, with the logic board sliding out and once the RAM was seated correctly (a rare n00b mistake by your's truly) it booted up lickety split.
Aside: I recently had to replace a fan in the Intel NUC that I use to run/host my Plex server, and comparatively the Mac mini is a dream to work on. It is built to be repaired.
Fired up the migration assistant on the old mini, and the new mini, pointed them at each other, and about 4 hours later over WiFi, it was ready to go. A couple of minor items (re-authenticating Dropbox, Google File Drive Stream, and getting/approving the extansions for the Drobo drivers) and all is well.
The Migration assistant has become so darned good, so seamless, so idiot proof, it has made moving from an old computer to a new one completely painless.
Sonos One
To make room for my new monitor in my desk's cubbyhole, I needed to clear a lot of space. I had been using powered studio monitors for listening to music. They sound great, but, they take up a lot of room. Since I am not recording guitar much anymore, they had been relegated solely to just playing music on my computer.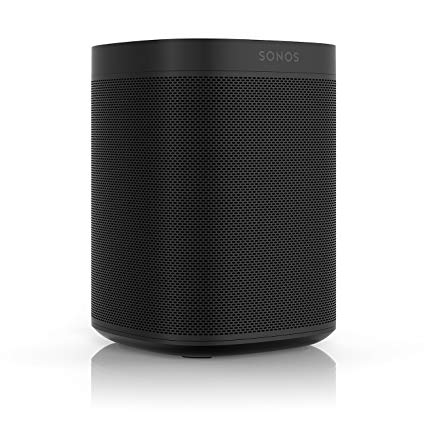 I have long eyed the Sonos speaker systems, but never pulled the trigger on one. The closest I came was buying their soundbar for the TV we have mounted to our wall in the living room.
I have beeen eyeing the Sonos 5, a pretty solid stereo speaker, on par with the pricier Bose systems, but $460 bones was a lot to see if they work. So I punted and bought the Sonos One. a smaller speaker tower, not true stereo, but at $140, not as much of a risky bet.
Small, it was packaged very well. It is a solid little cabinet, and apart from a power cord, (and an ethernet cable that isn't needed) it is self contained. Plug it in, load the app on your phone (iPhone in my case) and power it up. The app walks you through the setup and optimization. The app is simple to use, and get this, it will manage all your streaming services. Apple Music – Yep, Amazon Music, sure bet, Spotify, Hell yeah. And literally all the others. It will even take your zip code, and there is a service that aggregates the local radio stations so you can stream live radio.
Since it uses WiFi instead of bluetooth, you don't get weird drops of the stream.
You can bet that I will be splurging on the Sonos 5 in the not too distant future, and move this Sonos 1 to my bedroom to listen to music before bed.
Two thumbs up.