Bread Making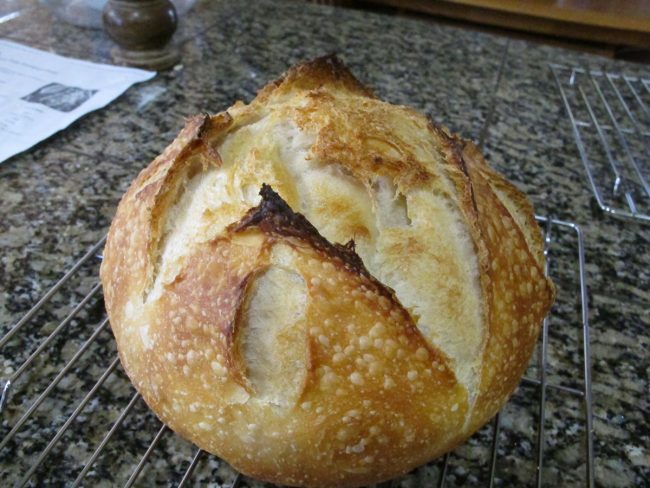 In the last installment of bread making, a new hobby, I was just beginning on the adventure of making sourdough bread.
I followed the "sure bet" recipe for Rustic Sourdough from the fine people at King Arthur Flour, and it came out well. However there were two deficiencies:
The commercial yeast – used to ensure a good rise – overpowered my starter.
It wasn't very sour
I understand why the KAF folks recommend this recipe for noob's, since if your starter isn't well fed and very active you can have a pretty meh loaf. Also, I thought the mix of whole wheat flour was a little odd tasting.
But, it worked, and it was enjoyed, even if I didn't get that 'tang that I desire in the loaf.
For Christmas, I got a wonderful gift from my brother, a baguette "pot" from Emile Henry, and I made a few loaves of baguettes, but they never satisfied my itch. On hold for now, but will be getting back to it.
Fast forward to March. My starter is rockin', and is developing a character of its own, and I am digging on the bread it makes.
I also found another recipe that is amazing. The Extra Tangy Sourdough Bread recipe, from – where else – King Arthur Flour, is a star for my baking.
Additionally, the first time I made this, I baked batard, and to figure out how to shape the loaf, I found this video, that is amazing. Of course, it also taught me that I was way too timid with my kneading and shaping.
I have applied my newfound knowledge to bake some amazing loafs.
That said, I am eyeing a mixer to knead and mix my doughs. Alas, I have an increasingly painful arthritis that manifests itself in my hands, so I can justify the cost *cough* *cough* (at least that is what I will tell my wife)