Review: Bissell SpotClean ProHeat Pet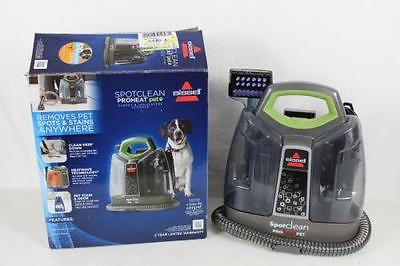 Two weeks ago, we adopted a sweet little girl who proceeded to have some accidents on our carpet. She was (and remains) timid, and the stress of the new home, changed food, and her anxiety led to first diarrhea and then piddles on our carpet.
While the carpet was sell used when we moved in (at least 8 years of heavy, rental use), we we kept it, and have had it professionally cleaned a couple of times. Fortunately, we weren't expecting perfection, and the traffic areas are pretty grungy (closing in on 2 years since the last deep clean).
But the diarrhea and the piddle spots needed to be cleaned. We used the Oxy pet spot cleaner recommended by the pet store, and it actually did a pretty good job, but I realized that we needed more help than that.
So, I whipped out my credit card, and checked the local purveyors of spot cleaners. I knew that I wanted a Bissell, having eyed a Lil' Green Machine for my car several years ago, but never pulling the trigger. Alas, neither Target nor Walmart had it in stock locally, but Walmart could get it to me quicker, so I plopped down the card and ordered it.
2 days later it arrived. It is a compact unit, and it came with two cleaner heads, a vacuum attachment, and a small bottle of pet stain cleaner.
The unit has two detachable tanks, one for the cleaning solution (a mixture of hot tap water, and the detergent) and one for the cleaned carpet recovery.
Setting it up was simple, the instructions are straightforward, and easy to follow. I did decide to use the oxy cleaner spray to pre-treat, and then use the SpotClean to soak and then vacuum up the effluvia.
I was blown away at how well this worked, and how easy it is to clean it afterwards. In the 9 days cince it has arrived, I have used it 4 times, and each time it was a cinch to setup, to use, and to clean.
If you have a pet, this is $100 well spent. Bissell is a trusted name, and it really makes spot cleaning a no fuss issue.
Highly recommended.