The final rest for Tate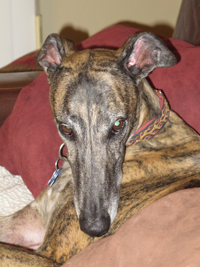 The bad day happened. No, not the actual decision and act to send Tate across the rainbow bridge because his seizures were escalating, and he was beginning to suffer the consequences. That was not a good day, but at least we could comfort ourselves knowing that we did the best we could for him.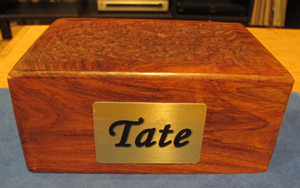 No, the call came from the vet, Tate's remains were ready for us. Wow, a ton of bricks. Fortunately, I didn't personally pick them up, or I would have lost it big time. No, Barbara already had a planned visit to the vet for some therapy for Garrett, so she got the short straw by default.
Tate is back with us, where he belongs. And I am sitting here, tears streaming down my face as I remember how much he was a part of our house, and regardless of his faults, he was a wonderful, happy, boisterous, lovable scamp.
Sure I don't have to watch my paper napkin, lest he snatch it and eat it, or we can leave bread on the counter without it being snatched. But those were small concessions.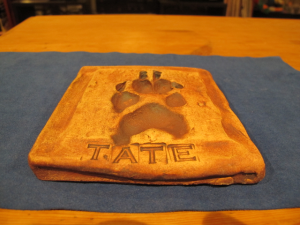 Just last week, we were at his favorite place Edenvale park, walking Garrett, and one of the "regulars" asked where Tate was. We were stoic, and explained. I handled that well. So why does having his cremains returned to us emotionally devastate me?
I can't answer that, but it does. From the cedar box (arguably the best cremains return we have had), to the ceramic tile they made with his pawprint. I sit here, a wreck, acknowledging that he is well and truly gone, taken from us far too young, but also knowing that we made the right decision.
Adulting is too hard this weekend.
Posted also on Greytbros