2015 is in the books. Apart from a pretty lazy day in the office, and trying to keep Garrett from freaking out with the inevitable fireworks, you can stick a fork in 2015, it is DONE.
Some big changes, we bought a house in the Santa Teresa neighborhood, a modest 1,400 sqft abode for a whopping $695K, and every cent we could get our hands on. For the first time ever, we had a significant amount of work done before the move in. Nothing major or structural, but quite a bit of plumbing was in need of work (and the water supply/sewer lines were an expensive "gotcha"). The appliances were Roper and GE out of the 1970's, and just nasty, and poof they are gone, replaced with decent drop in replacements (Kitchenaid, LG and Bosch). Finally, we had the popcorn ceiling removed, and all the interior repainted, as it was, um, ugly. It is a nearly 50 year old house, with good bones, and we are happy with it.
Our hounds, Garrett and Tate, are still with us, although Tate's seizures have been trying. We have worked him down from his Keppra dosage that really wasn't doing the job, started him on potassium bromide, and we are hopeful that it will work.
Work is, well, work. It pays the bills, and it offers enough flexibility, but it is less than fulfilling lately. However, it is unclear what would be the next step in the career. Being at an awkward age and position, it is a bit troubling. Add in the nearly $4K mortgage and property taxes, and gulp, it is a challenge.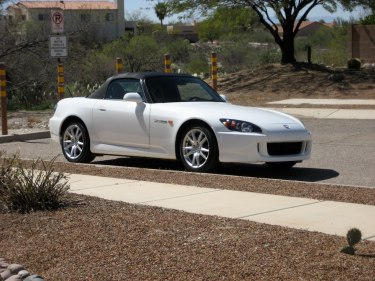 My car is taking a beating as a daily driver. Living in Arizona, I had a breeze of a commute, either a short surface street, or a set of fun back roads. Here, it is 17 miles, of tough going in traffic. 25 minutes with a Starbucks stop today (New Year's Eve), or as long as an hour and forty five fucking minutes. Anyhow, it is tough on tires, on brakes, and there are a couple of spots where the clear coat is peeling. It is 10 years old, and it needs some TLC that I can't afford at this time. Heck, even being able to hand wash it weekly, and polish it twice a year (like I did in Arizona) would be a huge improvement. But, water restrictions are a bitch. If I was in a perfect world, I would buy a beater that gets better mileage for the commute, and keep Stewie in the garage. Alas, this world is far from perfect.
I did more cycling this year than last. That is a positive. However, I need to do much more. The absence of 3 months of 110F+ weather is a big benefit, but the cold in the winter seems to last longer, and alas, I lack appropriate attire.
But, in general, my health has held up (although I do need to work on losing some weight, and more consistent exercise). The arthritis in the hands sucks, as well as the tendency to get the gout whenever I slack and drink a couple of beers. Sigh, getting old. But, I did enter my 6th decade, and considering the alternative, I should be happy.
2016 is almost here, and it has to be better.