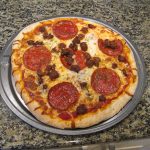 One of my specialties is hand made pizza. I first came in contact with making pizza when I got a job at Chuck E. Cheese in the early 1980's. Apart from the access to wicked cool video games, I got to learn how to build a pie.
Of course, Chuck E Cheese isn't known for their pizza, but it was a start. Crust, sauce, cheese, toppings, in a very hot (550 – 600F) oven and 7-8 minutes later you have a bubbling gooey top, yet crisp crust.
My next exposure was at Florentines. There I was a bit more than just an assembly line like Chuck E Cheese. There, a single person was dedicated to making pizza per shift, and I learned about other toppings than the standard.
The tools are simple. A peel, pizza pans, a stone an oven that gets hot.
The Process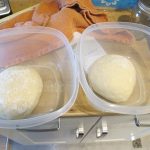 The foundation of a good pie is the crust. There are literally thousands of recipes on the art of making pizza. The one we used at Florentines was good, but it was a bit impractical for home use, as it started with a 50# sack of flour.
The recipe I use is a very basic one:
3 Cups All purpose flour
2 teaspoons fast rise yeast (I use the Fleishmann's in the small jar)
2 teaspoons salt (I use kosher salt, but it really isn't important)
2 tablespoons olive oil
In a food processor, with the standard blade, put the dry ingredients in. Start the processor, add the oil (I will admit that I don't measure it, just a couple of glugs).
Then slowly pour in 1 cup cold water. You really want to trickle it in, so do be patient.
If the dough ball doesn't form, add more water, one tablespoon at a time. If it is too wet, add flour one tablespoon at a time.
When you are done, you will have a nicely formed dough ball. Remove it from the food processor, and transfer it to a lightly floured surface. Knead it by hand for a couple minutes. Split into two equally sized pieces, and then place in a container and cover with a towel to let it rise.
After the dough is made, I begin to cook the ingredients. Today, I am making a pepperoni and sausage pie. Since I don't have a very high BTU oven, that can get to 600F, I precook my sausage to ensure that it is properly cooked.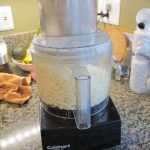 99% of the time, when I need shredded cheese, I use my trusty box grater. Not for pizza though. This is the one time I get out the grater blade for the food processor and let it rip. About 15 seconds for a full package of partially skim mozzarella.
Sauces – If I am making a margarita pizza, I will make a very simple sauce – canned tomatoes, olive oil, and some sea salt in a food processor. But for all others, I get lazy. Classico Tomato Basil spaghetti sauce is really good. Or I will make a white sauce pizza, again using a premade alfredo to start. Yes, I can (and have) made both, but for the small amount needed for a pie, it isn't worth the effort.
The end result.
Tonight's pies were the aforementioned pepperoni and sausage, and another staple of mine, a basil cream sauce with mozzarella and fresh tomato slices.
Delicious.