Passing of the torch – EA Sports Pro Tour
I have an Xbox 360, I play only two games with any regularity, Forza Motorsports, and the Tiger Woods Golf franchise (actually, I play that with my wife, and we enjoy it).
I haven't kept up with the franchise lately, because the 2012 edition was pretty good, and we really didn't feel the need to shell out money for the latest version.
Tonight, I got an email announcing the next one. However, it does appear that Tiger Woods' douchiness has finally caught up to him, as he is no longer the standard bearer of the game.
Welcome to Rory McIlroy's PGA Tour.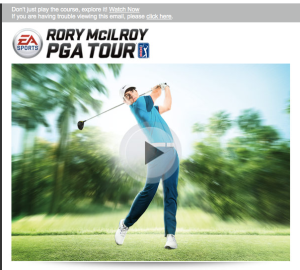 GOLF WITHOUT LIMITS
Usher in the next generation of golf with the power of the Frostbite engine and play the most beautiful sports game to date with no load times, enabling you to explore authentic tournament courses or unique fantasy environments.
I guess banging family restaurant hostesses, and crippling back pain have finally caught up to ol' Tiger Woods' marketability.
Bummer