Over the 4th weekend, I took a couple of days off (Thursday and Monday) to drive my dogs from Tucson, where they were staying at a pet lounge, to our new home in San Jose, California.
The drive was fine, we rented a big Dodge Grand Caravan, as we wanted there to be enough room for the boys, and all the crap they need (beds, food, water, our bags, etc). Although Barbara was worried that it would not have enough room, it was surprisingly cozy in the back, with well partitioned areas for the boys.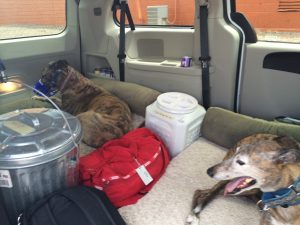 We settled in to an easy lope across Arizona. Starting later than I had hoped (surprised? Ha, you don't know Barbara very well, do ya?) we made pretty good time. A stop at the junction of Gila Bend to top up the tank (we had been driving the van around all week) and to potty the boys, grab some Subway sandwiches, and off we went.
Smooth sailing until we hit Quartzite. One of those famous Arizona monsoon pattern dumps, we ended up parking in a Chevron lot for 20 minutes until the deluge passed. I will miss that.
Barb takes over driving, and we head to California. As we were approaching Palm Springs, and it was already 6:30 PM, it seemed like a good time to find a place to stay. So I pulled up my trusty iPhone, searched for dog friendly hotels, and the top recommendation was the Best Western Date Tree Inn. Setup the navigation, and we are 20 minutes out. Cool.
We get there, and Barb goes in to obtain a room for us, and I take the boys out to walk in their luxurious grass. The lady working the desk sees the boys, and goes out of her way to get us a SPACIOUS suite, at that same price as a normal room. Awesome service, and I have added the BW Date Tree Inn to my places to stay list. We were pretty physically exhausted, and our pooches were fatigued as well, and more than a little out of sorts, so I stayed in, and Barbara went and picked up some takeout, and a bottle of wine.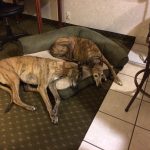 Sunday morning, we wake up (early for Barbara, late for me) at about 5:30. Boys slept well, and have been pottied. Garrett's tummy was grumbly (he is a sensitive boy) so we knew he just needed something "special" to get back to right (and something is "Turkey"), so Barbara asked the attendant at the breakfast if there was anything. 5 minutes later, she is back with a bag of frozen chopped turkey, warmed slightly in the microwave, and G-bear inhales it. Stomach settled, we get on with the rest of the morning ritual.
After breakfast, we head out of town, headed north, through LA, and into the Central Valley. A quick stop in Banning for gas, and to re-situate the boys, we head out.
The LA basin wasn't too bad. I have done this drive enough to know that it is best to take the 10, to 210, all the way to I5 up near Santa Clarita. That way you avoid the hassle of central LA traffic. Traffic was light, and smooth all the way (the benefit of a Sunday morning), and the first slowdown was just as we got onto the 5. A bit of traffic around the I5/ca14 split, but it got going again pretty quick. A pitstop at the Flying J at the top of the grapevine, to potty the boys, and to take on some snacks, and we were off again.
Next stop was the 158 exit for Button Willow. We grabbed lunch (a fast food burger) and then to the Avenal rest area for our last stop in the Central Valley.
Observation: knowing I had hounds in the car, and being a cautious driver in general, I am not in a hurry. I make sure there is enough distance between me and the vehicle in front of me that if traffic slows, I have ample time to respond, and not do crazy theatrical avoidance tactics. Alas, the other drivers on I5 don't have that same philosophy. Traveling at 75mph, I saw people with about 2 car lengths or less stream by. Naturally, at some pinch points, traffic slows, and it is just smoking tires, people dodging into the median, and far too many close calls.
At one point, near the Harris Ranch exit, there was a chain reaction pile up. Fortunately nobody injured, and the damage was mild, but 6 cars, and 3 CHP certain caused a 5 mile slow spell.
On to 152 / Pacheco Pass, traffic moved well, until we hit the famous Casa de Fruita, just before 152 and 156 split. We stopped there for the last time, knowing we needed gas, (and their station was mobbed, at least 4 deep waiting for the pumps, and flaring tempers). Pretty slow crawl into Gilroy, but not awful, and then a shortish hop on 101 to Sunnyvale.
Home at last.
Next week, we move into our 1 year apartment, oh boy!