Our furkids: Tate Edition
Our family is complete with two furkids.  We have adopted retired racing greyhounds, and made them completely spoiled. Greyhounds are some of the sweetest, laziest, dogs you will ever know.  Both of ours are couch potatoes, and are often ridiculed for being the slowest walkers. We don't mind.
However, there are some downsides to the Greyhounds. Their upbringing and time on the track is really hard on them. They often come off the track with worms, bad coats, and teeth that are frightful. However they clean up and adapt very well to home life.
But there are other issues. Many of them are injured at the track, and (if they are lucky) have a long recovery before their retirement. But there are other health problems that arise later in life. The incidence of osteosarcoma is frightfully high. We lost our last greyhound, Oliver, at the far too young age of 8 to bone cancer.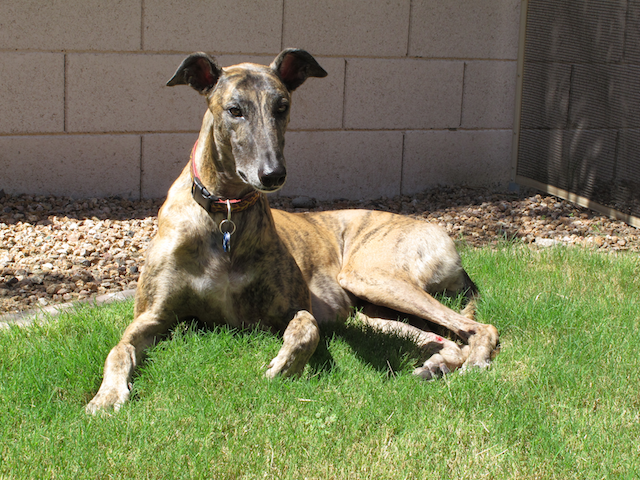 After we lost Oliver, we had a hole in our family that needed to be filed. Enter Tate.
Tate raced 8 times, and broke his right rear hock on his 8th and last race. Fortunately, there was a rescue group on hand, and he was taken in and nursed back to health. After that he leaped into our hearts, and has been here for almost 3 years now.
Alas, all is not perfect.  About 2 years ago, he began to have seizures. Grand mal epilepsy. They seemed to be getting worse, and more frequent, so off to the neurologist. When I was commuting from Tucson to Chandler last year, the frequency increased to about 1 a week, an escalation that was frightening (often it is indicative of a brain tumor that is growing). So off for an MRI (at a price that is frightful).
Fortunately there was no sign of a tumor, and he just has epilepsy.  We cope with pretty heavy anti seizure medication, and the frequency of seizures is about 75 days.  A tolerable state.
Today was one of the seizures.  We get less freaked out not, and he recovers remarkably quickly compared to before we began the anti seizure medication.